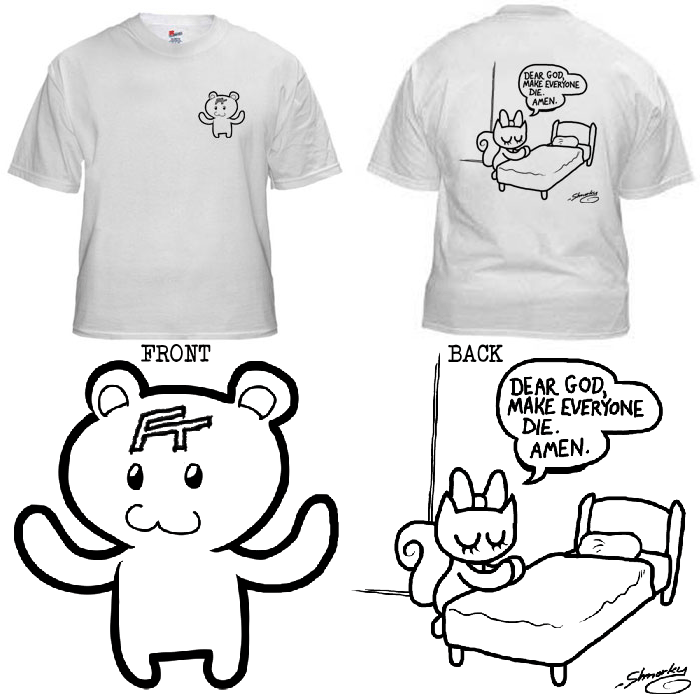 BUY THIS SHIRT

Buy the brand new Doom House DVD! It's not like those shitty special editions where theres only 10 minutes of new stuff. This is a WHOLE NEW DVD. On it you will find my retarded anime parody! It's nine minutes long, four times longer than a normal Flash Tub episode! If you still haven't picked up the original Doom House DVD get that one too, because it has stuff on it that's not on the new DVD (like my older Doom House animation.) I also do the first 15 seconds of Mega64's season two intro, which you can see by getting the DVD! Yeah it's only 15 seconds, but have you SEEN Mega64? Funniest game-related sketch comedy ever made. The new season is 10 times better than the first. These guys have really hit their stride.

Why not also pick up Bill Fillmaff's bitchin new DVD? I do animation for one episode. Okay so maybe it is a stretch to call it animation and it only lasts for a few seconds... But get the DVD anyway because Bill Fillmaff is a riot!
ALSO BUY A PLATFORM HERO POSTER- DRAWN IN NES BOX ART STYLE!
Welcome to Shmorky.com! There's a new webcomic out called
WEBCOMIC STEW
and already it's been getting a huge response. It's a negative one too! Well mostly negative. (MOST OF) the artists I parody
have no problem
with what I'm doing* but the fans want to lynch me! I respect the comics that I parody. If I hated these comics I would not draw parodies at all. If you really don't like what I'm doing then don't react to it!
I'm serious. The best thing you can do is ignore this comic. Stop being so stupid.
CLICK HERE TO SEE WHERE IT STARTED IF YOU'RE CURIOUS.
or
check out the whyis page
to see if you should even be reading this comic (probably not!)
UPDATE!
A brand new comic in the style of
classic Leisuretown
:
Wikipederasts!
new (old) comic:
Jerkshmork
.